Enjoy playing the best golf games online free. Introducing free PC golf games, PS4 and PS5 golf games. Discover our top 10 list and game reviews.
Golf Video Games: The 10 Best Virtual Golf Games Online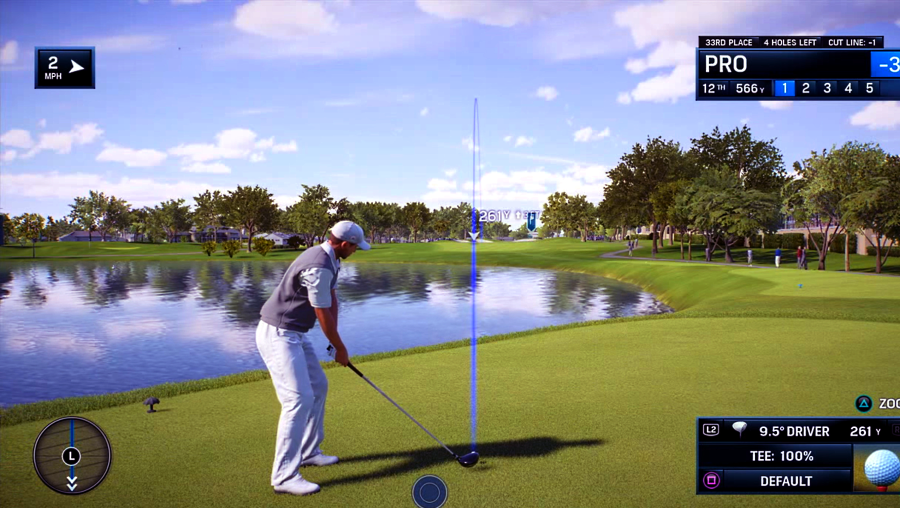 The sport of golf is easily lost in the digital world, especially when faced with competition that includes Madden NFL, FIFA, and NBA2K. Here at Free Online Games for PC, we want to open your eyes to new gaming options and in this instance, celebrate with us the top 10 golf video games online.
Our guide on this is very simple, we are just going to be talking about the games that you can play on your PC, PS4, and PS5. Through this page, you will be able to play incredible golf video games free and without any strings attached.
Why Opt to Play Golf Video Games?
Let's be honest, golf isn't exactly known for its fast-paced, all-action entertainment and intense drama from start to finish. If anything, golf as a sport is exactly the opposite, and for some, this is just fine. Golf is nevertheless a competition, one that has roots that trace back to the 1400s. The object of the game is to get your ball into a series of holes spread across a course. Various clubs can be used to hit the ball, depending on range, the kind of fairway you are on, and if you need to make a final putt. The player that completes all holes of a course in the least about of hits is deemed the winner.
What golf presents is a game that requires skill, thought, and precision. Because of these and many other qualities, there have been many great games produced in the past two decades. What follows, is a look at the top golf video games that PC users can enjoy, as well as those for PS4.
The 10 Best Golf Games
10) John Daly's Pro Stroke Golf
So, the first question you might be asking is, is who is John Daly? An American golfer, Daly is known for the unique driving stance he produces off the tee. He produces drives of a ball that can reach 300 yards. Golfing career highlights include the 1991 PGA Championship, the B.C Open, the Bell South Classic, The Open Championship, and many others. His prowess in the history of the sport has led him to be the figurehead of one of the best golf video games PS4 has released.
John Daly's Pro Stroke Golf came out after many of the big hitters that will feature in this rundown, and while there are many things lacking, which place it at number 10, credit has to be given to its motion control that gives users a very impressive first-person view. There is also a more feel to the game than what appears in the Tiger Wood series, which is why this golf game makes it into our top 10.
9) Tiger Woods PGA Tour 13
If you don't know Tiger Woods as a professional golfer, then you may know him as the drink-driving guy that has a penchant for porn stars. Yes, the good boy turned bad, Tiger Woods dominated the game for a decade, hit the booze, and has since 2009 tried to claw back his career, which did re-ignite in recent years. His professional achievements make him the greatest golfer to ever play the sport, and this is undeniable. The first of several Tiger Woods games to make this list is his EA sports 20013 PGA Tour video game. While not the best of the bunch, it makes the list at 9 because of the incredible game mode it provides. This is the Legacy Challenge, which allows players to experience the top events of the golfer's career.
With this, the analog swing control is more complex to master, giving more emphasis on direction, timing, and speed. Though stalling at number 9, this will be the golf game that will be the benchmark for all simulated games that moved on from the arcade and sim hybrid.
8) Cyber Tiger
What Cyber Tiger gives gamers is one of the coolest golf video games PC has ever seen. It gave users the sporty arcade-style common at the time of its release, which features a practice range, player editor, power boost shots, and celebratory animation. Made just after the very first Tiger Woods PGA series, this game was pivotal to the series, which later adopted some of the gaming traits, given this was also made by EA Sports.
7) Hot Shots Golf Fore!
This is all about fun, nothing serious, and nothing official. This game boasts backspin controls, it hosts incredible graphics, and you have more courses and characters to choose from. This is all about taking the sport of golf to the extreme and making it borderline ridiculous, which is why we ranked it because games like this in the category of golf are few and far between.
6) Tiger Woods PGA Tour 12
The EA Sports release of the 2012 PGA Tour game blew everyone away because, for the first time, the developer introduced the in-game caddy. It also introduced a brand-new course, the Augusta National. Why it took over a decade to introduce a caddy into these games is beyond us, but finally, this great dynamic helps complete the experience. This is because the caddies, just like in real life, won't always be 100% correct. One in full swing, you might notice something else, and that's the new commentator voice. PGA Tour introduced the iconic Jim Nantz for the first time, which for golfing fans is alone worthy of the positioning this game finds itself in our top 10.
5) Mario Golf
Now, did is a bit of a swerve from the other games because it's the Nintendo 64's Mario Golf that makes it into the top 5. Why? Because it is beyond goofy and fun, and presents more of a crazy golf feel than a serious one. You have complex slops to navigate, you have wind reading, changeable camera angles, and velocity tracking. Fans of Mario, in general, will enjoy that each featured character is their own unique in-game tournament with special courses. You won't find anything like this golf game anywhere.
4) Sid Meier's Sim Golf
Who is Sid Meier? Well, he's not a golfer, but a Canadian-American programmer who created this sim golf classic. The classic status comes about because this is not your conventional computer game and is, in fact, more of a strategy game, given you build the golf courses, run the business as a manager, and play games under the guise of Gary Golf. This is quintessential PC golf gaming at its best and one that no top 10 could be without despite being 20-years old.
3) Golden Tee 2013
The graphics presented by Golden Tee 2013 are still better than many of the modern console games you get in the market today. This game was one of the oldest as it originally got released back in 1989 as an arcade game, but as the popularity grew over the many years the arcade series grew, it was soon adapted for PC users, in which we get this 2013 edition. One of the impressive features of the game is the tracking system of the ball. Highly satisfying to use and play.
2) Links 2003
Based on the Links Country Club, this 2003 edition is a PC cult classic, and many computer gamers will hail this as one of the greatest golf video games for PC of all time. This 2003 game was Microsoft's last of the series, which helps to give the game it's cult status. The reason why it doesn't make the top spot is due to its playability, which is a simulator experience and not that of, say, an arcade/sim hybrid. But despite this, all other features are near perfect, and the recent course mod packages have helped to keep the game still running with the addition of the Arnold Palmer course included.
1) Tiger Woods PGA Tour 2004
Why the 2004 edition? This is simply because this was the highest-rated of all Tiger Wood PGA games as it helped to create the now popular modern-day simulation by which all sports games now duplicate in its performance and playability. This game captured Tiger Woods at his absolute peak, and it brought into the game many key attributes. It features new players such as John Daly and fellow American Gary McCord. The 2013 edition also introduced an events calendar that worked in real-time and offered players licenced equipment from putters to balls. This game set the standard, it helped to break down borders, and of all golf games made for PC, this is the best one to play.
While many of these are made before the age of PS5, here are some recommendations we believe are the top golf video games PS5 has dropped thus far.
PSG Tour 2k21
Golf With Your Friends
Gold Club Wasteland